Tennis Ball Machines in NZ from SPORTS TUTOR
Welcome to tennistutor.co.nz where you can access information about Sports Tutor tennis ball machines available in New Zealand. We have choices for every player level from our range: quiet, powerful wheel-drive or gentle hammer toss; compact portable or imposing rolling machines; battery or mains, or a blend of both; wireless remote control; electronic control panel or switches and dials; dual line feed, match simulation player modes; oscillation; adjustable trajectory, ball speed and ball feed rates; groundstrokes, lobs, flat shots, topspin and slice. There are many options for use on home tennis courts, at tennis clubs and association facilities, at schools, and other fitness institutes. The range is priced competitively and delivery is usually within two weeks of order if not currently in stock. For touring professionals constantly striving for improved consistency or stroke refinements, for serious local tournament and club tennis players wanting to improve competitive play, for home court family play, for players just starting out in the game requiring an available partner to practise what is being learned, or for coaches wanting valuable instruction tools - there is a match from within the Sports Tutor tennis ball machine range.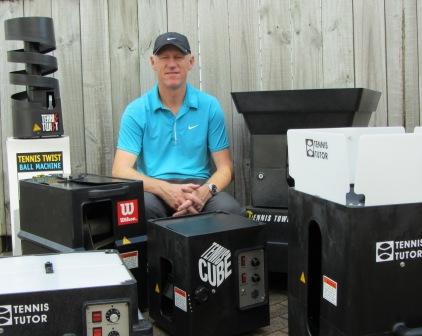 We have been distributing and servicing Sports Tutor ball machines in New Zealand since 1993 - NZ voltage ready, and specified to individual requirements. Selected tennis ball machine models from around these prices: Tennis Twist $600, Tennis Cube $1300, Tennis Tutor ProLite $1900, Tennis Tutor $2500, Wilson Portable $3000, Tennis Tutor Plus $3400, Tennis Tower $4200, Shotmaker $6000. Please contact us to confirm current model, option or accessory prices and to discuss what model features might best suit your particular situation.
Campbell Cramer-Roberts in Auckland has many years of experience working with these outstanding ball machines as a professional tennis coach, so he offers expert knowledge of best on-court use and care of Tennis Tutor ball machines. You may find it useful to visit the Sports Tutor website at www.sportstutor.com to view latest models, images and specifications to assist you with your choice. All these ball machines are designed and manufactured in the USA, with a two-year warranty. We believe Sports Tutor have a worldwide professional reputation for proven longevity as leaders in the ball machine industry.
There are also Sports Tutor ball machines available for SOCCER, VOLLEYBALL, BASEBALL, SOFTBALL, and some can successfully be used for CRICKET training.
see the portable TENNIS TUTOR in action throughout Holly Christina's music video "Competition"
we welcome your enquiry
or to discuss your particular requirements please call us
09-5757845 027-4738633
Tennis Tutor Ball Machines NZ PO Box 25-419 Auckland 1740
C & C CRAMER-ROBERTS
NZ Distribution and Servicing for Sports Tutor Ball Machines
Prices are subject to change and are GST INCLUSIVE. Freight extra for delivery outside Auckland.
Two-year defects warranty from date of purchase.
Page Content Copyright 2018